What is Singles Day
Singles Day, an e-commerce phenomenon in China, is said to have originated in the 1990's by single Chinese college students as an "Anti-Valentine's Day", where they–for once–would be able to celebrate their singleness.
The date November 11 (11.11), was chosen because of the number "1" (symbolizing a single individual) appearing four times.
The "holiday" only gained widespread popularity after Alibaba founder Jack Ma introduced it as a yearly online shopping event in 2009.
In contrast to Valentine's Day, where lovers buy each other gifts, Singles Day has become the time of the year where not only singles, but everyone, buy gifts for themselves.
Alibaba online shopping platform TMall.com became the place where people would find special Singles Day discounts for various different brands and merchants, with the event kicking off at midnight November 11.
The main reason why Alibaba chose this date was to fill the shopping slump between the sales leading up to National Day in October and Chinese New Year in January to February. Not only that, but this "holiday" seemed to have a strong appeal to its target demographic: The young, urban and tech savvy consumer.
The appeal of Singles Day may stem from the Chinese societal pressure to marry young, while the large gender imbalance in the country results in many serial singles. The usual negative stigma around being single can finally be let go of during Singles Day, and singletons are allowed to shower themselves with gifts – for being single.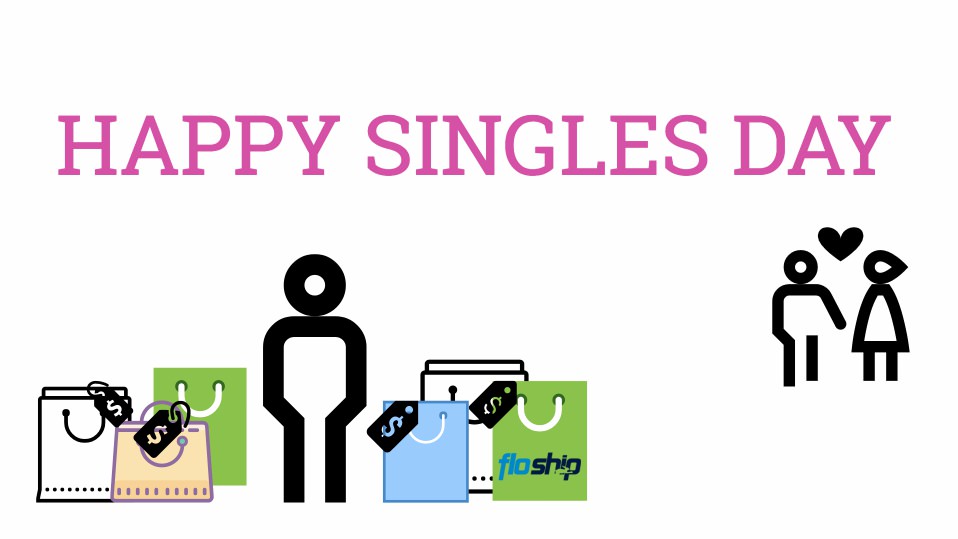 If you thought Black Friday or Cyber Monday were major shopping holidays, think again. Singles Day trumps both holidays with Alibaba's revenues surpassing $17 billion in just 24 hours in 2016 – more than double of Black Friday and Cyber Monday combined. This shopping event even set a Guinness World Record in 2015 for highest online sales revenue generated by a single company in 24 hours.
While the larger portion of the transactions happens in these 24 hours, Singles Day does not only comprise of one day, but a whole month. Just as Christmas shopping starts right after Thanksgiving in the US, promotional activities and announcements for Singles Day begins a month before the actual day. It helps the merchants as well as the consumers get the most out of it.
Today, Singles Day not only encompasses all of Alibaba's online shopping platforms, such as TMall, Taobao and Juhuasuan, but competitors like JD.com, Amazon China, Suning and VIPshop are also offering Singles Day bargains to attract shoppers.
In 2016, nearly 10,000 merchants sold to millions of shoppers in China. These also included numerous international brands, such as Apple, Zara, Macy's, Starbucks, Target, Maserati, Guerlain and Costco. In fact, around 27% of purchases were from international merchants or brands.
Chinese consumers are becoming more and more sophisticated when it comes to international brands, and this presents foreign merchants a golden opportunity to increase their presence in the Chinese market.
How can you participate in the Chinese e-commerce market
Selling on JD Worldwide
JD.com, or Jingdong Mall, is the second largest online direct retailers in China, with 258.3 million monthly active users as of September 2017.
JD Worldwide was launched in 2016 as a cross-border ecommerce platform to enable international merchants to tap into the Chinese market even without having physical presence in China.
Not needing to have a legal entity or bank account in China lowers the barriers to entry, and JD Worldwide also provides help in marketing to its wide user base and access to its nationwide logistics network.

The JD Worldwide model offers two options:
Reseller model, where JD Worldwide buys inventory from international companies and resells to Chinese consumers with a mark-up.
Platform model, where a foreign merchant's store is hosted on the JD platform and is selling directly to Chinese consumers, taking a sales commission as a fee. The annual platform fee is $1,000 USD, a quality guarantee deposit of $5,000-15,000 and a commission of 2-10% depending on product category.
Selling on TMall Global
While JD.com tends to be the preferred choice for product categories such as home appliances and electronic equipment, TMall is the place shoppers turn to for branded clothes, cosmetics and F&B.
Also, TMall is the most popular shopping platform in China, having a B2C ecommerce market share of 57% as of 2016, not to mention the most happening place during the annual Singles Day shopping frenzy.


Just like JD Worldwide, TMall Global is a cross-border platform that enables foreign businesses to sell directly to China.
It offers four options of stores: Flagship store, marketplace, specialty store and authorized store.
Among the basic requirements for setting up a store on TMall include:
Having an existing corporate entity outside of China
Having qualifications for overseas retailing
Being a brand owner, an agency or authorized merchant
Fees include a deposit between USD$8,000 and $25,000 depending on the store format and trademark status, an annual service fee of $5,000 or $10,000 depending on product category and a sales commission of 5%.
Selling on Amazon.cn

Although the Chinese regional version of Amazon only had a B2C ecommerce market share of 1% in 2016, there are several good reasons for using this platform for selling to the Chinese market:
The platform is a trusted marketplace and runs on the same technologies as the US platform.
If you are already familiar with setting up an Amazon store abroad, the steps will be similar on the Chinese version of the platform.
There are no platform fees or annual fees required, you are only charged a referral fee (8-15%) for your product and a deposit fee ranging between USD$1,600 and $8,000 (all fees depending on the product category)

To qualify for selling on Amazon.cn, one must have a legal entity outside of Mainland China, be a brand owner or a distributor/retailer, and be listed within the following product categories:
auto
home & garden
home improvements
grocery, office products
musical instruments
sports
baby
toys & games
pets
clothing
consumer electronics
health & beauty
jewelry
shoes
Easy Order Fulfillment to China using Shopify, Magento, WooCommerce
If your e-commerce store runs on Shopify, Magento, WooCommerce, Moltin, or any other self-hosted site–shipping your products to customers all over China is no problem if you are using the right fulfillment center.
With Floship's platform connectors you can easily fulfill your shipments to your Chinese customers directly from Floship warehouses located in Hong Kong. Basing your China operation in Hong Kong is the easiest route to sell to the Chinese Mainland market without the challenges and red tape involved in importing and warehousing your stock directly in China.
Moreover, Floship's integrates to the above mentioned platforms via plugins, and the entire process of picking, packing and shipping runs automatically as your Chinese customers place their orders in your online store.
To find out how your e-commerce store can ship to China the easy way, get in touch with a Floship China inbound specialist here.

Ready To Upgrade Your Logistic Solution?
Speak to Floship ecommerce logistic consultant about improving your global support chain today