Quality Control is such an important aspect of any manufacturing process. Whether it be from China or any other country in the world, it should be one of the integral processes that every product goes through.
QC (Quality Control) focuses on inspecting the specifications and manufacturing processes that your products will undergo.
The main idea behind having your products inspected is to ensure that they meet all the set requirements and to ensure that you are not buying dud products. It eliminates the risk of ordering a large number of faulty goods.
With this in mind, it is essential to make sure you have a plan in place to have inspections done in each step of your manufacturing process.
There are three steps in the QC process, they are pre-production inspection, in-process inspection, and pre-shipment inspection. These steps are not to be taken lightly if you want the end result of your product to be outstanding.
Let's look at each of these steps individually to better understand their purpose and what you can expect.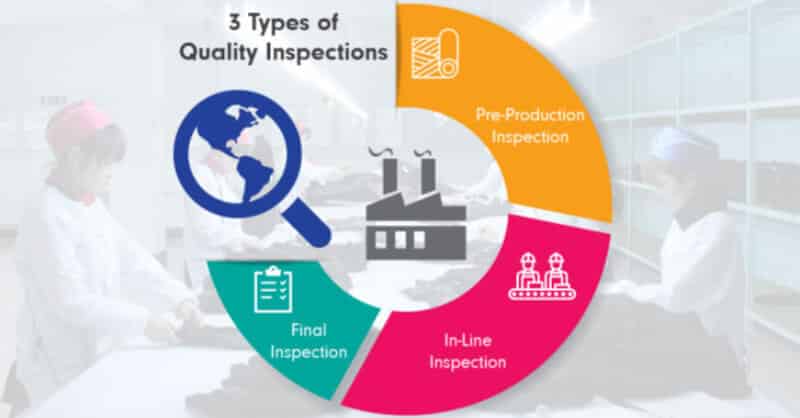 Quality Control
Pre-production Inspection
As with any great plan, the initial set-up stage is the most important. You really want to set a firm foundation so that your processes can run as smooth as clockwork. Skimming over this step could cost you in the long run, so be sure to take every measure possible to ensure a quality product.
When first getting started, it can feel overwhelming, yet it need not be so. Simply put, there is some work you have to do before even considering beginning your production.
We've made it just that little bit easier for you by putting together a list of how you can accomplish these steps without even breaking a sweat.

Pre-production Inspection
(1). Selecting Your Supplier
A good supplier will be someone who produces high-quality products and can deliver your orders on time. There are many suppliers in China to choose from. This may seem a bit daunting at first, yet there are ways and means to sort through them quickly to find your ideal supplier.
The best way to do this is to keep all the quality and compliance certificates from each supplier. This will show you if they are at the standard you are looking for. In addition, what you have to consider are the trade laws. This will be your guiding compass as to whether you can manufacture and sell particular products in your country of choice.
(2). Discuss Safety Regulations
Every country has its own set of safety laws on products imported into their country. These laws are highly dependent on your target market. For instance, if you are manufacturing and importing a shipment of teddy bears to America, there are certain trade laws that govern the safety of small children who would typically own teddy bears as their toys. In saying this, your teddy bears will have to be in compliance with American laws and checks in order for them to be passed and released.
(3). Factory Inspection
Would you ever buy and pay in advance for a vehicle from a dealer that you have never met? I am guessing you just said, "no way!" At least that's what I am hoping you did.
The same applies to your manufacturer. A personal visit to meet the man who will be making your goods is just, well truly necessary.
Say you are not able to personally go to China and meet your manufacturer, what do you do?
It's simple. Hire a Professional Inspector based in China to go and inspect the factory. There are reputable inspecting firms in China that will be able to assist you in this. The inspector will be able to check the certificates and overall quality of the production line in the factory. If you are able to go and mee them in person, make sure double-check the certifications and quality of the supplier.
(4). Discuss Your Product Requirements
There's an old saying that good things come to those who wait and patience is a virtue, in this case, it is all true.
It's like building a brand new Lego set that just arrived. You hope to make an amazing design that you have been thinking about forever. It takes time, patience and sometimes a few (and other times many) adjustments.
It is the exact same when planning and discussing your product ideas with your Chinese manufacturer. It is essential to go into minute details and to be as clear as possible to make sure that the specifications are correct. Take your time to avoid any mishaps or misunderstandings. After all, this is your brainchild and it deserves all the attention and adoration that any child would. Be sure to ask your manufacturer for a sample before the production run begins to be sure of the quality and specifications.
(5). Samples, Samples, Samples
By this stage, you ought to be feeling like a kid at Christmas. Congratulations! Your samples have arrived. Now, this is where the fun begins. At this point, find a lab that can test your product to make sure that it meets all safety requirement and it performs the way it was designed to.
(6). Get Your Results
Once your results come back from the lab, you will be able to identify if your product meets all its requirements.
(7). Place Your First Order
Excitement grows! Your product samples arrived, you sent them to the lab, the results were positive, and now – it is time. Speak with your manufacturer and place your order quantity and set requirements.
(8). Assess Your Raw Materials
In all your excitement, be sure to remember that your product is only as good as what makes it. Just like your dinner. You want to know that the food you are about to eat is fresh and tasty. It's the same with your product. The materials you use will determine the quality and durability in the long run.
It is of paramount importance to check and double-check the quality of the material as well as accessories before your manufacturer goes ahead and begins with the production.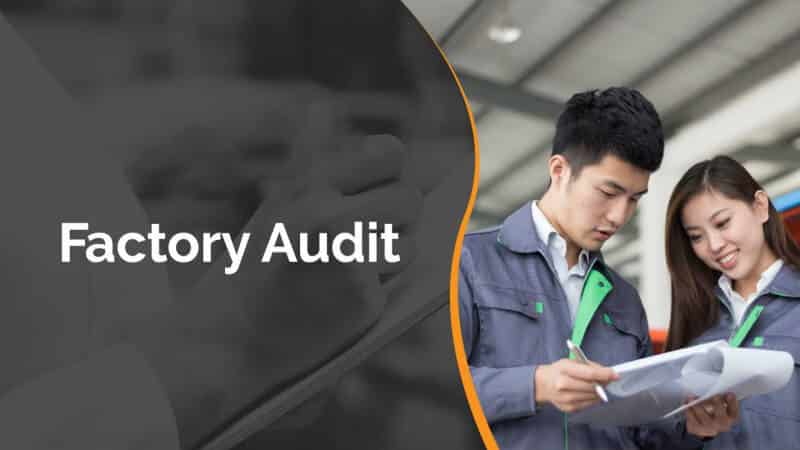 Assess Your Raw Materials
In-process Inspection
In the process of your first product being made, it goes without saying that you will need to follow up during the manufacturing of it. After all, it is your brainchild and, this is the moment of truth.
This is where your full attention and follow-up skills will come in very handy. You doing this will not only ensure the quality of your product but the delivery times as well. A well planned and managed product run will yield the results you have been waiting for.
To help you oversee this process efficiently, we have put together a few guidelines and pointers to help you with the creation of your new product line.
(1). Frequently check in with your manufacturer
In regularly checking in at the factory you will be able to detect any problems during the production process. You can also email and call to check-in. Just remember to keep all your correspondence in writing and reiterate your requirements in writing. Just to be on the safe side.
(2). Always check and verify your materials
Did I mention, always check and verify your materials? This is ever so important. Be sure to do this before the end of the production line. This is to ensure that the correct materials were used to produce your goods. It would be a bad day if your materials were swapped out for others that you did not know about. For whatever reason, remember to have strict oversight on your production line.
(3). Be clear on your schedule times
At this point, your product is well underway to being produced and shipped out. You will need to know a few highly important facts. For starters, what will the lead times be? Will your order make it to you in time?
Being very clear on your production schedule will help you, in the long run, to weed out any problems should they arise and find solutions to them. All stuff before the end of the manufacturing process should always follow up.

Always check and verify your materials
Pre-shipment Inspection
After all your hard work and follow-up efforts, there is one last step to take that will put your mind at ease. It is the final checking stage. This is where you will know if your run has been completely successful or not.
Find yourself an agent who is compliant by Chinese law to go in and do your final check. He will then check the quality and do the necessary compliance checks needed before shipment happens. In the end, you will be very happy about doing this. You will know for sure that your product line has worked out as you envisioned and that there won't be any quality comebacks.

Pre-shipment Inspection
I hope this post helped you in some way, or better yet, in many ways with starting your manufacturing process. What if you have already begun production without all these steps in place? Don't go panic! There are still ways for you to ensure the quality of your products. Check out how can you make sure their quality accessible to your target market for more information. You will find all the information you need step-by-step inside the article to guide you in the next step to streamlining your process.
Ready to fulfill your orders?
Floship provides e-commerce businesses across the world with top-notch fulfillment solutions. We store, pick & pack and ship, all powered through our award-winning, fully automated and seamlessly integrated software. Connect it to dozens of market places and e-commerce platforms with a few simple clicks and you're ready to go. Want to learn more? Contact us and we'll go over a tailor-made solution to get your company to the next level. Start shipping cross-border, world-wide with Floship!
Meet the author
Sharline Shaw, the founder of a leelineSourcing.com, is an expert on Chinese export trade. With 10 years of experience in the field of sourcing in China, she is familiar with all relevant regulations and laws about China's exporting. She'd love to share her experience with people and has written many helpful articles. You can follow her on Facebook @Sharline

Ready To Upgrade Your Logistic Solution?
Speak to Floship ecommerce logistic consultant about improving your global support chain today